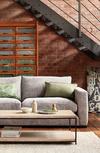 Pinterest has our best interests at heart, we know it, but when it comes to filtering through all the 2020 interior design trends it can be a little overwhelming. What's great is that 2020 is all about creating personal, uplifting spaces that make you feel good so whether you're a minimalist or maximalist at heart rest assured you'll find something that inspires you.
We've rounded up our top 6 interior trends for 2020 – to make it easier for you to decide what's hot and what's not in 2020. Read below for the lowdown.
1.

Embrace the eclectic with Grandmillenial
"Something old, something new" springs to mind with this 2020 living room trend, which hinges on the past to create the future. Fun, maximal and a little eccentric, Grandmillenial creates a home full of personality.
Mixing modern-day design with retro elements, Grandmillenial style is all about incorporating much-loved personal hand-me-downs, alongside second-hand vintage finds and reclaimed furniture and making them look at home in a modern interior. Working on the premise that if you love it, it'll feel harmonious.
Pinterest searches for thrifted home décor have leapfrogged basic minimalist decors over the last year (increasing a whopping 308%), showcasing how key features don't need to cost a fortune.
We love that colour and print feel at home here, going bold works best with jewel-coloured velvets and patterned fabrics that tell a story.
For furniture think traditional detailing, like spooled and spindled legs on sofas to elegantly break up space between floor and furniture. You'll love the way they draw the eye to not just your sofa's silhouette, but also show off the intricate craftsmanship beautifully.
For something truly unique, level up and craft your own furniture just the way you like it. Bespoke sofas are perfect for achieving a winning look that bursts at the seams with your signature style.
shop bespoke sofas
Go big and bold with monochromatic interiors as the feature wall becomes a thing of the past.
Elegant and full of personality, single colour schemes feel opulent yet playful.
The rules apply when it comes to wallpaper too - championed by Luke Edward Hall, wrap your room in bold designs to really get the full effect and if you're completely in love, match your furniture to your walls for full print on print perfection.
When it comes to plumping for a single colour, a richer palette works best.
No doubt bolstered by Pantone's announcement of Classic Blue as the Colour of the Year, 2020's colour palette is plunged deep into the well of navy blue hues.
Subtle, yet bold; modern, yet traditional; moody, yet uplifting; navy's versatility certainly gives grey – the colour of the last decade - a run for its money. Unsure how to incorporate navy into your home? Introduce a splash of dark blue to your reading corner with our Tom Collins chair or opt for our ravishing Grande Dame sofa to show off your navy centrepiece in style.
If 2019 celebrated all things velvet, 2020 will see our love affair with deep-pile textiles continue with the rise of heavy-weight wools, bouclé, mohair and sheepskin, taking these cosy fabrics from winter novelties to year-round staples.
Combining tonal textures is key to creating a soft, sophisticated space full of character. From a practical perspective, we love wool for it's naturally spill-resistant properties and its ability to keep you warm in winter and cool in summer.
shop luxury sofas
4.

Let your living room bloom
The flower power of floral patterns is back just in time for the twenties.
Where cool, calm minimalism defined much of the 2010s, people are falling for beautiful blowsy bouquets to add modern romance living room décor in 2020. From whimsical wallpaper to colourful curtains, the floral treatment is perfect for eye-catching interiors – especially when it comes to large-scale, bold prints.
Whilst the classic English country look never really went away, Chintz is getting a new lease of life from younger generations looking to create romantic, impactful spaces that feel like a breath of fresh air.
To whole-heartedly commit to this budding trend, choose a showstopping floral sofa that unashamedly steals the spotlight. Or, if you're still on the fence, ease yourself into this interior trend with some beautiful floral cushions.
5.

Go green with biophilia
Literally meaning love of life, Biophilia is a 2020 interior trend which, rooted in the 90's sustainable architecture movement takes the concept further and creates spaces that benefit the people that use them.
Going hand in hand with ethical consumerism, Biophilic design hinges on the use of natural elements to create a happy, healthier home.
With recycled and sustainably sourced materials, big blooming plant motifs and plenty of bright white spaces, biophilia is all about creating a home that's kinder to our planet.
Furnishings from environmentally-friendly companies complete the look and give you peace of mind to boot. We're proud to be 95% FSC rated by the WWF for our timber plus we have a brilliant range of recycled and sustainably sourced fabrics in store.
shop sustainable sofas
The minimalist approach you've been waiting for, Japandi combines (yes you've guessed it) modern-rustic charm championed by Scandinavian styling with the traditional elegance found in Japanese interiors. It really is the best of both worlds.
Both styles emphasise the importance of creating function-driven spaces defined by a handful of beautiful statement pieces rather than an abundance of décor.
It's their differences that help make this partnership especially interesting. While Japanese spaces can get overly sleek, the rustic details in Nordic design add variance. Where Scandinavian interiors have a tendency to be so neutral they can appear cold, the rich color palette of Japanese design gives the room more warmth.
So how to create this polished yet oh-so-comfortable look at home?
- Choose rich colours and natural accents, but contrast with brighter pops - houseplants are a great way of achieving this.
- Combine furniture styles - a simple sofa shape paired with a curvier accent chair or table adds unique interest.
- Choose statement accessories
As with Grandmillenial styling, it's all about those accessories or pieces that tell a story. This will create a living room space that feels personal, uplifting and unlike any other.