Eden large sofa in Dusky Ocean

Eden large sofa in Dusky Ocean
Whether bold or muted, colour has been proven to quickly boost our mood, in addition to bringing life to an interior scheme. Over the last few years, many of us have waved goodbye to more neutral palettes in favour of those more vibrant. And, just like that, we have seen more and more colour quickly creeping into our homes in both small and large doses. Whether this is through artwork, accessories or furniture, colour is a simple way of refreshing a tired home in a fun, stylish way.
Be bold
For those of you ready to take the plunge, why not take it up a notch by creating a real design statement and incorporating some clashing hues? Infiltrating both the fashion and interiors spheres, the act of colour clashing has swiftly gone from 'zero to hero' in a short amount of time, with a sharp growth in designs and patterns emerging that include combinations of high-voltage flashes of colour. Where the home is concerned, colour clashing can create maximum impact, filling your space with plenty of energy, appeal and a really strong aesthetic.
Do your research
Understanding what colour pairings you like, and why, will help boost your confidence in taking the decision to introduce a contrast into your scheme. It might be that you start with that sofa that you've been eyeing up for a while. There is nothing more beautiful than a sumptuous velvet sofa in a plush jewel tone velvet, like royal blue or emerald green, with a deep-buttoned back and large, curved arms or a sleek contemporary model in a vibrant orange or pink. Couple with a footstool or an accent chair in a differing hue for a sure-fire way of creating a stylish statement with just two pieces of furniture.
Fabric options
If you're looking for something a little less rich than velvet, linen or cotton are great options and work particularly well in softer shades like pastel blues and creams. If bold tones aren't your thing, but you like the idea of colour clashing, this can still be achieved utilising calmer hues and will give you a cosy, timeless look.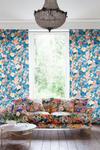 Thurloe large sofa in Love Birds Saffron
Look outside the box
An alternative way to pull off a colour clash in the home is to adorn one wall with one or even two dramatic colours or a flamboyant wallpaper and pair with a piece of furniture, whether a cosy armchair or a sofa. Magenta pinks, electric blues and oversized floral patterns will ensure that you achieve this look seamlessly, giving your home the ultimate refresh.