Jude sofa bed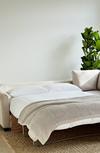 Jude sofa bed
Once simply chosen for their practicality, sofa beds have evolved over the years with plentiful design options now available. Check out our tips on investing in a stylish, yet cosy one for your spare room.
With the increasing popularity of home offices around the world in the last few months, spare bedrooms are now multi-purpose spaces. They not only now house an extra space for guests to stay but also a working area and perhaps additional storage. For this reason, it's key to create a streamlined, uncluttered space that can adhere to each of these requirements, particularly for when you host overnight guests. A sofa bed is the ideal piece that every home needs, if you have the space, and it should be a considered purchase.

Caruso medium sofa bed in Echo Rose Quartz. Geraldine Tan @littlebigbell
When choosing a sofa bed, you'll want to think about the following elements - comfort, size, budget, practicality and all-important, style. When it comes to comfort, our sofa beds have been designed for both occasional and regular use. For occasional use, we offer a mattress made with a special foam of one-inch thickness, ensuring maximum cosiness. For more regular use, a four-inch-thick mattress on wooden slats, offering optimum support, is also available. When the sofa bed is folded back in, a spring base means that the comfort of your sofa is not compromised, and neither is its aesthetic.
Sofa beds come in a range of sizes – from small to large and even corner styles. Start by choosing where you'd like to place the sofa bed and measure it carefully to ensure it will fit the room when fully open. It's also important to check the mattress size as a big sofa bed doesn't necessarily mean a large bed. If your chosen spot is compact, bear in mind the shape and size of the arms and if it has legs, which can make a huge difference by opening up the room and making it feel and look larger.

Jude sofa bed in Dusky Ocean. Loved by interior bloggers Tash South @southplacestudio
Each piece is considered to be a space-saving luxury and can also complement your room décor with a multitude of fabric and colour choices to choose from. If the sofa bed won't be frequently used, focus your attention on the sofa design and how it will look in the room. Does it complement the current scheme and layout, for example? Or, would you perhaps prefer something that could create a focal point? Whatever your preference, be creative and choose a practical and trendy sofa bed that will last for years to come.
We've put together a selection of pieces to inspire you so that your guests can enjoy a great night's sleep.
shop the style
save 15% on our Caruso range for a limited time only*

Caruso medium sofa bed in Echo Rose Quartz £3,101 was £3,649, saving £548
shop CARUSO

Jude corner sofa bed in Riva Zest
£3,189
shop JUDE

Dillon snuggler bed in Casual Cloud
£1,579
shop DILLON