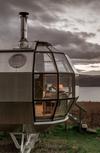 Hosts and guests exchange more than just money. They trade personal preferences. With your interior choices placed firmly under the microscope - and any feedback (good and bad) laid bare in the reviews – it's easy to feel the pressure when creating a home from home.
Luckily, there are simple ways to make your Airbnb stand out. How do you do it? Read on to find out how to decorate your holiday rental with unique personal touches.

Let's be honest, location rules the Airbnb listings. Everything else – the price, the host, the Wi-Fi capabilities – is a distant second place.
And while you can't change the geography of your rental to suit your clientele, you can show off your location's best bits with some carefully curated décor. Trust us, it's easier - and cheaper - than it sounds.
For instance, you could ask a local artist to sketch some nearby scenery for your rental's wall art collection. Alternatively, you could take photos of nearby beaches and parks (if you're out of town) or notable shopping streets and iconic sculptures (for metropolitan rentals) to tell a picturesque story of your surroundings.
Not only will this reassure guests that they have chosen a fantastic location, but it could even convince them to book with you again, if it means experiencing all the advertised attractions.

2.

Make the most of your surroundings
With 3 in 10 UK holidaymakers now opting to holiday at home, Staycations are enjoying a renaissance.
So, how do you create somewhere that feels wonderfully unique? Look for a point of difference.
We caught up with Maxwell, owner of the apartment Jane Austen called home between 1801 and 1805 in the heart of Bath. Furnished with antiques – some of which have been in Maxwell's family for generations – the rooms are teeming with artwork and curious objects.
"Guests have loved the space and its quirky touches," says Maxwell. "And we've loved sharing our home with fellow travellers!"


If you're a fan of dystopian fantasy, you'll love Amanda's home. Her space-age style Airship is situated in a magnificent, secluded position on a four-acre site that gives you the privacy and freedom to have a peaceful, relaxing time away.
This iconic, insulated aluminium pod was designed by Roderick James in a bid to create more economical and sustainable living structures, which can be dismantled without any damage. The small size of the interior has not hindered Amanda's comfort décor.
Neutral colours combined with the wood finishing compliments the steel silver of the Airship, and a log burner between two leather chairs only adds to the snug ambience.
Amanda appreciates the exposure that the Airbnb platform has given to her home. "You don't need to stay in a generic hotel to have a great vacation. Unique properties like mine are actually possible to find now with Airbnb."


3.

Style out the practicalities
An intriguing set of floating shelves and ladder bookcase might look the part, but if they're squeezed into a blind corner, will they pose a tripping hazard to guests on unfamiliar terrain? Possibly.
To inspire your guests, it's important that you think about the finer details and prioritise practicality when decorating your Airbnb.
Callum's converted shipping container is a masterclass in making the most of a small space. Set in 10 acres of private meadowland just outside the quaint village of Poltimore, the idyllic location offers a luxury packed base to explore the landscape of Devon.
The property is nestled in both nature and tranquillity. The interior has a complete contemporary yet homely feel, combining natural elements with warm metals and pops of colour to really bring the space to life.
"I'm still astonished by the beauty of this corner of England, and I want as many people to experience it as possible."