Aster large sofa in Luna Mineral, chair in Luna Pewter and footstool in Luna Blossom

Aster large sofa in Luna Mineral, chair in Luna Pewter and footstool in Luna Blossom
Your sofa is more than just a piece of furniture, it's what you live your life on. We all know that life can get a little messy sometimes, so we've put together a guide on how to give your sofa all the TLC it needs to keep it fresh and squeaky clean.
Get into a routine
Daily and weekly. To help keep your sofa fresh and clean, our sofa experts recommend plumping your cushions daily, re-dressing your covers and checking that the legs are tight once a week. If you have a leather sofa, this will need a weekly dusting and wool, cotton or linen sofas require a gentle brush and bobble removable weekly.
Once a month, give your sofa a good hoover to remove dust particles and any pesky crumbs. A household hoover will do just fine, just use it on a low setting and use a soft brush attachment. If your cushions are removable, now is a great time to rotate these which will help them wear nice and evenly.
Once a year, you may want to consider doing a deep clean and have your sofa dry cleaned in situ. Just make sure that you check the care labels on your sofa first to make sure that the fabrics are dry-cleaner friendly.
Different fabrics need different care...
As you can imagine, keeping your leather sofa looking lush requires a different kind of cleaning method to cotton and linen sofas. Here are our tailored cleaning tips for each kind of sofa finishing: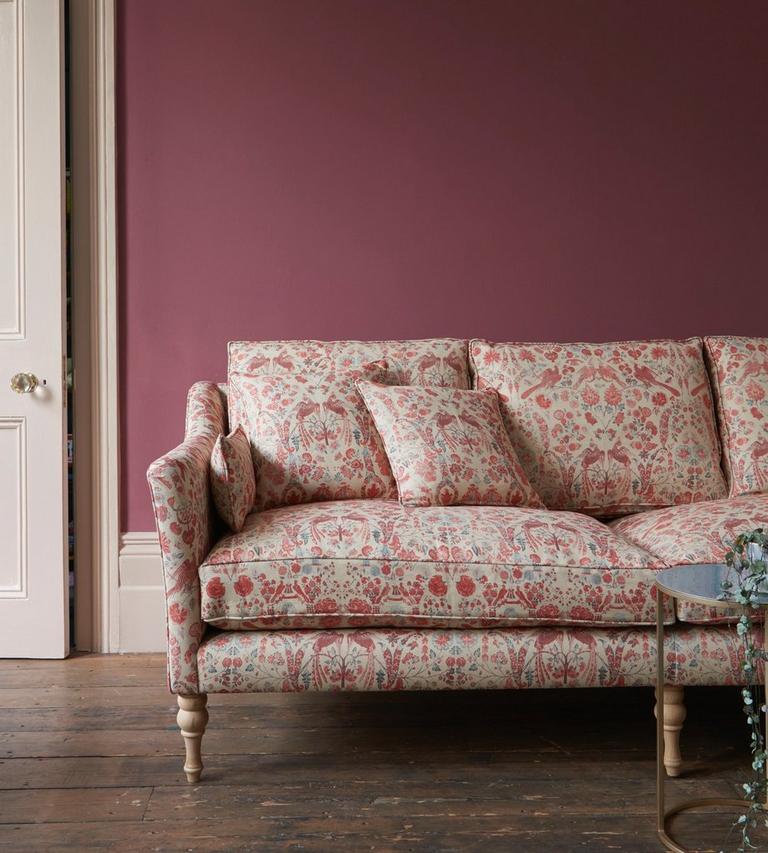 Walpole large sofa in Coromandel Rose
How to clean your fabric sofa
Cottons, linens and woolen fabrics are prone to pilling, due to the longer length of the fibres in the fabrics, but don't worry this is perfectly natural and pilling will lessen over time. Giving your sofa a hover will help to remove any excess fibres before they become pills and a 'Fuzz-away' fabric shaver will easily remove any persistent pills.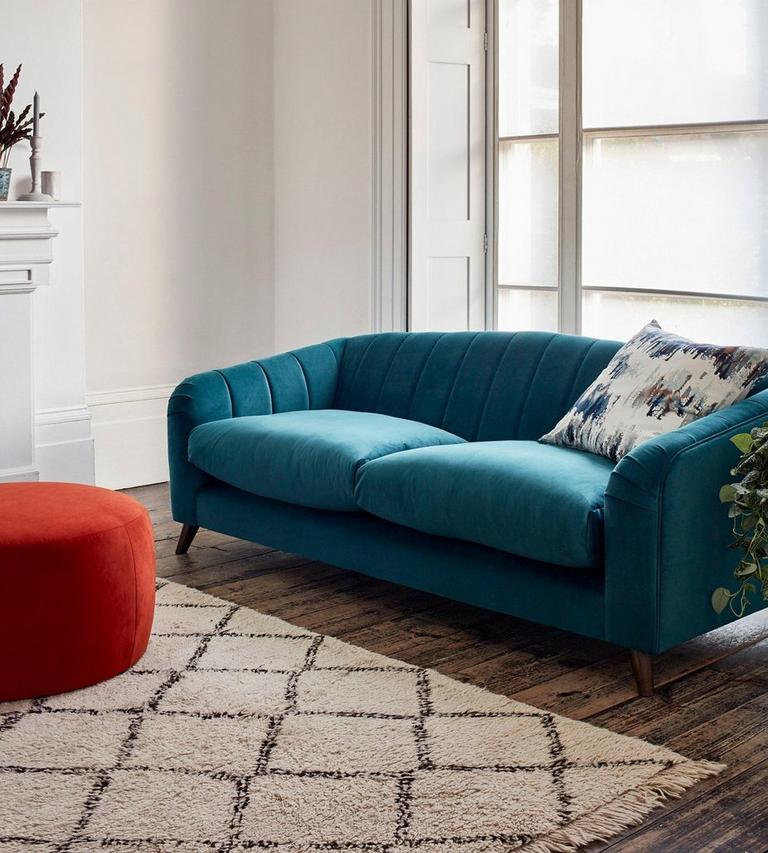 Louis sofa medium in House Velvet Mallard
How to clean your velvet sofa
There's nothing quite like the feel of this luxury fabric, but as velvet sofa owners know, marks can appear quite easily. Fear not, a gentle brush once a week will help to stimulate the pile and remove pressure marks and shading.
Not all cushion fillings are created equal either...
Just like the fabric on your sofa, different kinds of cushion fillings need special treatment. Feather filled cushions need to be plumped daily, as do fibre-filled cushions.
Here's how to plump those cushions properly (and yes, you can consider this a form of exercise):
1. Remove the cushion from the sofa and drop it on a clean floor or rug on each corner. This will draw the air back into the cushion and help the feathers and fillings circulate.
2. Push and punch the cushion back into shape, paying special attention to the corners as this will stop the filling clumping up.
3. Rotate the cushions to prevent excess wear in certain areas and pop them back into place
If you've opted for foam or spring cushions, these won't need as much maintenance and don't require any plumping due to their much firmer feel.
If you need any further advice on how to best give your sofa the TLC it deserves, our sofa experts are a friendly bunch and they're here to help, so just give them a call on 0800 2300 048.
get in touch