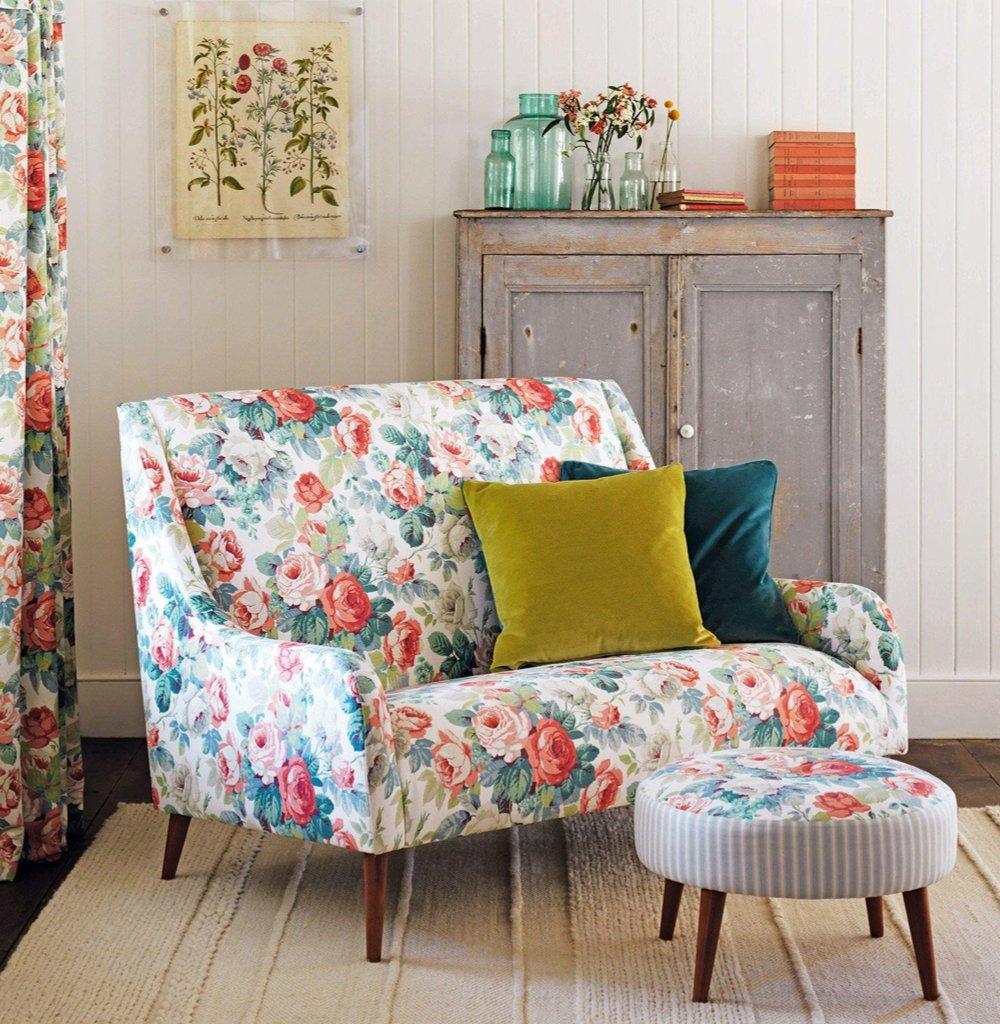 Bold prints and colourful patterns are truly eye-catching on large pieces of furniture and can really make an impact in living rooms, bedrooms and even bathrooms. Selecting a pattern is quite the undertaking, so it's no wonder people often resort to creams, greys and blues when choosing a sofa. If you're not quite sure how to make pattern and colour work in your own home, please do read on for our top five tips on going for bold in your home.
by Jennifer Haslam - Interior Stylist

Accent pattern
The easiest way to introduce bold colours or patterns into any room in your house is to use accenting. One way to do this is to choose a pair of occasional chairs and upholster just one of them in printed or colourful fabric. Pick a complementary fabric that matches in shade or colour to the print for the other chair (or sofa), to keep the look cohesive. Then, you can style up the patterned chair with matching plain cushions to tie the look together. To take this look further, keep wall colours neutral to create a calming yet stylish space that will really offset the statement colour or pattern you have chosen for your accent chair.
shop THURLOE
Updating the grey
If you love the pared-back, Scandinavian-style look but want a refresh, update your space with a patterned sofa in soft, muted tones. Keep all the upholstery, scatter cushions and throws in the same colour palette or fabric motif to create a streamlined look. To really lean into this serene aesthetic, paint your woodwork and architrave in the same shades to tie the room together.
shop WALPOLE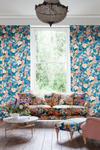 Feeling brave
Why not maximise the look and create a very bold scheme by choosing a complementary chintz fabric for your curtains and your footstool? Similar chintz patterns with in different colourways will pair very well, and will stop the overall scheme looking too 'matchy-matchy.' The bright colours of Love Birds (a fabric from Sofa Workshop's collaboration with the V&A) work especially well in a space where they have room to sing, with the large windows and pared-back flooring providing the perfect backdrop to bold designs.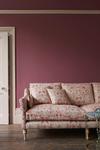 Delicate pattern
Introducing pattern isn't always about using large scale design. Delicate patterns can create a similar statement with a little more subtlety. The Coromandel (another fabric created by Sofa Workshop collaboration with the V&A) is a delicate print shown here in shades of soft pinks.
When working with delicate patterns in your upholstery, create more of an impact by picking out a colour from the pattern and using it on the walls in an elegant matte finish. This backdrop of pink softens the business of the design and helps the pattern blend into the room.
Cushion clash
Mixing bright colours and distinct patterns will give you an instant bold look. For a starting point, choose a patterned cushion that you love and pair with a vibrant, block-coloured armchair. You can build your collection from here, using these initial pieces as reference points. The pops of colour in a scheme like this work well with a bold backdrop too, such as a pink wall or gold accents.
All the designs featured above are from the V&A collection from Sofa Workshop which marries archive prints with a modern twist, that work well in both a traditional and contemporary home. The archive designs have been given a 21st-century update and are the epitome of modern, timeless, classic style.
shop all SOFAS