FAQs
Here at Sofa Workshop we are more than a little obsessed with sofas, so you can rest assured we know our stuff.
our sofas
how good are your sofas?
Excellent. We don't scrimp on quality, disposable furniture just isn't our thing. We're so proud of our sofas and how they're made we guarantee every single frame. They're all made right here in Britain by experienced craftsmen and we keep a watchful eye on the whole process, start to finish. The frames are made using time-honored techniques like gluing, screwing and dowelling and every frame has hardwood in it, either beech or birch. Customers are so happy with their sofas that a big part of our business is from recommendations and repeat customers. Have a look at our short film to get a better idea.

do you do sofa beds?
Yes we do. Most of our sofa styles have a bed option. We know how important a good nights sleep is which is why we don't compromise and only use very comfy mattresses designed especially to be cleverly hidden away in to the sofa when they're not being used. And because most styles have a bed option you don't have to compromise on style. If you can't find a bed option on line, get in touch and we'll be able to help. *Warning – we can't be held responsible for guests outstaying their welcome.
do you do corner sofas?
It's a yes to that too. We only show a limited choice of our corner sofas on line but we have more combinations of modular sofas than you can shake a stick at. If you can't find your ideal corner sofa on our website get in touch, we're confident we can help you.

i'm worried my sofa won't fit in?
If you have any concerns about whether your sofa will fit through your doors, hallway or staircase - talk to us. We don't want you to be disappointed when our delivery lorry arrives so we need to help ensure it will fit. We've delivered literally thousands of sofas and 99.9% of the time delivery is very straight forward. Help is at hand if you think it's going to be tricky. For a small charge we can make many styles with removable arms or in two halves. Or, depending on where you live, we offer an Access Check service where we'll visit to measure up to give you piece of mind. Please don't worry but please do talk to us!
i can't find what i really want?
What? That's not possible. If you can't find what you want on our web site then get in touch. We cannot be beaten for choice and it may just be you can't find a fabric you like, don't want feather interiors, need a bigger (or smaller sofa), love a style but want it as a corner sofa or in leather. Get in touch with one of our experts as we're super confident we'll be able to help you create your ideal sofa.
i need my sofa wider (or smaller)?
That's what we do best! We offer a 'customisation' service so you can have your sofa exactly how you want it. Wider, deeper, higher...for a small charge we can do that on many of our designs and make something truly unique for you. If this is something you're interested in get in touch.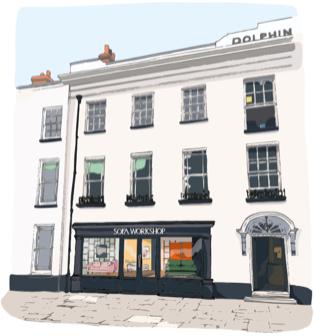 where can i see and sit on your sofas?
Unlike other online sofa retailers we have plenty of shops where you can sit down and test our sofas for comfort. You'll also be able to see our full range of fabrics and we can help you create your ideal sofa.
book an appointment with one of our design consultants
Consultations are absolutely free and enable us to give you one-on-one guidance to ensure your shopping experience is as enjoyable as possible.

fabrics, covers and fillings
i can't find a fabric i like?
We can't be beaten on choice and have literally thousands of fabrics to choose from. Our website only shows a selection, the ones we think are the nicest. Of course that's our taste and you may fancy something different. Get in touch with one of our experts and they'll be able to organise some free fabric samples for you to consider.
can i see the fabric at home before i buy?
No problemo! We offer a FREE fabric swatch service. Just click on FREE fabric swatches when you're looking at our styles online and away you go. Or call us and we can help you with loads more fabrics.
what fillings do you use in your cushions?
There's no single filling we use for all our sofas. Our experience in the upholstery world has taught us it's a mistake to use one seat cushion filling on every style. How would an uber cool, slick, contemporary sofa look with a big fat feather seat - rubbish. This is why we use different fillings on different sofas, generally we'll use lovely soft feathers, top quality fibre or the best foams. Every sofa's been tested by us and we're confident we've got them just right.

what do you mean by removable covers?
Removable covers are a great option if you have kids or pets. If it's removable it means the whole cover; seat cushions, back cushions and body can be taken off for cleaning. In many cases this could be in your own washing machine (if you see the 30c symbol by the fabric), if not then it's a trip to the dry cleaners. Removable covers will have a slightly less formal look too. Some of our sofas have removable covers as standard and on others it's an option.

what do you mean by fixed covers?
Fixed covers mean you cannot take off the covers for cleaning and they're generally smarter in appearance than sofas with removable covers. Don't worry about not being able to wash the covers (they can be dry cleaned in situ) or having to compromise as we offer an excellent fabric protection, just incase you spill that glass of red wine!
are my credit card details safe with you?
Absolutely safe. We understand that you may be worried about submitting your personal details - especially when it comes to your credit/debit card numbers. However Sofa Workshop promise you that our website uses the safest Secure Server technology to ensure that any details you provide us with are protected to the highest standards. We use Sage Pay for all payments and are SSL Certified. If you're uncomfortable to order online visit one of our shops or give us a call.
what if I just don't like it when it arrives?
We've worked hard designing, developing, testing and sat around a lot on our sofas so that they can be as good looking and as comfy as possible. However if you order on our website and when it arrives you simply don't like it, just drop us a line within 14 working days, and we'll come and get it. No quibbles. To give you complete piece of mind before you order have a look at our T&C's for the nitty gritty.