When we think of swoon-worthy interior style, the uber-pretty pastel colour palette of Geraldine Tan's London home always springs to mind. Her gorgeous gallery walls full of fun prints, and the superbly styled array of fun textures and furniture shapes that adorn her home make it easy to see why Geraldine is an award-winning interiors blogger. Check out her blog here at littlebigbell.com.

Geraldine in her London home
Not only is Geraldine an interiors expert, but she's also a dedicated NHS doctor who has been dealing with Covid-19 patients during the peak of the pandemic. We are very grateful to have been able to catch up with Geraldine, to learn more about her interior style and where she gets her inspiration from.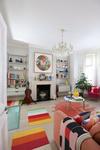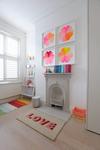 All photography and styling by Geraldine Tan, littlebigbell.com and @littlebigbell
You have such a unique interior style, can you tell us a little bit about where you draw your interior inspiration from?
I've always loved colours, so the way I decorate feels instinctive. I do get inspired by flowers, contemporary artwork, and my travels to Asia.
Do you have any advice for interiors enthusiasts who are struggling to establish their own sense of style?
I'd say always trust your gut instinct, go with what inspires you and make you happy. If you are still unsure, then maybe create physical mood boards or analyse what you are liking and pinning on Pinterest.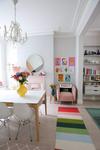 One of the things that we adore the most about your interior style is the way that you use colour throughout your home. How do you go about choosing which colours will work best in which spaces??
To be honest I don't actually think about or analyse what I do to a space. I just love collecting colourful homewares and put them all together to create the looks you see on my Instagram. I'm not frightened of mixing patterns and colours together. I do gravitate towards a certain palette of colours that seem to work well together.
What's been your latest interior project within your home?
In order to isolate from my family whilst dealing with Covid patients in hospital during the peak, I'd been sleeping in my "basement bunker". I was in desperate need of a new sofa bed, as my back was starting to hurt as the padding was thinning, and I could feel the metal frame beneath. I wanted something comfortable both as a sofa and a bed, but that would also fit in aesthetically with my home and so I chose the gorgeous Caruso sofa bed from Sofa Workshop.
There is a choice of fabrics and finishes to pick from, and no surprises, I picked a pink fabric called Echo Rose Quartz. I also selected light wooden legs to go with the pale pink.
It must be tough having to isolate yourself from your family during the pandemic. Are you likely to be able to spend more time with your family soon?
As lockdown is gradually being eased and the number of Coronavirus cases are coming down, I am becoming more relaxed in my interactions with the family. I've even ventured back into my bedroom upstairs. However, as much as I'm hopeful for no second wave, I'm more prepared for it at work and at home. I know that I will sleep better if I isolate in the basement again.
A special thank you to Geraldine for taking time out of her busy schedule to share some advice with us. See more of Geraldine's beautiful interior style in her blog at littlebigbell.com or find her on Instagram - @littlebigbell.
If you're ever in need of any further advice or tips on what sofa bed to choose for your living room, our sofa experts are just a phone call away on 0800 2300 048.