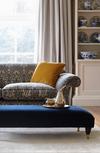 It might have started in the late 19th Century but the essence of the Arts & Crafts movement is as relevant today as it was back then.
In contrast to the fast-paced, digital world we now occupy, the Arts & Crafts movement celebrated honest, pared-back design and craftsmanship. It began in response to mass production and the excess of Victorian design so as we now look to ways in which we can be more ethically conscious in our purchase decisions, and buy pieces that really last it's this sentiment that rings true and now feels even more timely.
So, it's no wonder that clean, no-frills Arts & Crafts interiors are making a comeback as we move further into 2020.
To find out how you can bring this pared-back Victorian vibe to your home, take a look below.
William Morris, a pioneer of the Arts & Crafts movement said "Have nothing in your houses that you do not know to be useful or believe to be beautiful." Sound advice when creating an elegant, curated home.
Whilst design cues rejected frivolity, iconic prints of the movement focused on flatter flora and fauna motifs that felt decorative but uncluttered. Furniture and woodwork in quality materials such as oak used clean lines which allowed the craftsmanship to take centre stage.
Choose a design that you love and use this as the basis for richer accent colours mixed with pared-back whites and creams to create a sophisticated yet playfully elegant Arts & Crafts decór.
shop classic sofas
Simplicity is the signature style of Arts & Crafts interiors. Where Renaissance décor served up a sucker punch of patterns and eclectic colour combinations, Arts & Crafts looks are much more modest and natural in their approach.
If you're struggling to imagine how this works in the interiors world, just look to the great outdoors for inspiration. Think about the seasonal yellows, greens and browns of a woodland trail and how they all seamlessly blend together – that's the look to keep in mind when shopping for furniture and wallpaper in this décor.
Complement these earthy hues with richer blues and greens and you're onto a winner when creating a contemporary, fresher take on the Arts & Crafts aesthetic.
shop blue sofas
Not everyone is an Arts & Crafts interiors aficionado but getting to know the movement's key figures will help uncover hidden treasures you never knew existed.
There are so many rich stories and British design heritage woven into Arts & Crafts, it's impossible not to get hooked. It's part of the reason the movement became so influential.
Amelia Calver, Brand Licensing Research and Development at the Victoria & Albert Museum cites May Morris, daughter of William Morris as an unsung hero of the movement producing embroidery, wallpaper, textiles and jewellery long after her father stopped designing.
"In every aspect the Arts and Crafts Movement changed the way we think about design for the home and how we value the way things are made, and its principles continue to have an impact on the world we live in today."
If getting under the skin of design is your modus operandi, then you'll love our Morton's Marble print shown on the Georgian-inspired Walpole sofa, created in the 1920s by a prolific bookbinder this motif pattern exudes an understated elegance that suits Arts & Crafts homes to a T.
If you are in a furnished property, never underestimate the power of throws and cushions. They can be real game-changers when it comes to changing the feel of your home.
Arts & Crafts décor may be defined by unique, handcrafted accent pieces, but you don't need to be a master craftsperson to create the look. Designing your own bespoke piece of furniture couldn't be simpler.
At Sofa Workshop, we work with expert craftspeople to create truly personal pieces. Each sofa is made unique to you and with a wealth of fabrics on offer – including Morris & Co archive prints symbolic of the Arts & Crafts movement and our exclusive V&A fabric collection to boot, choosing an iconic print is your passport to pulling off this fabulous décor.
shop classic sofas