Caruso corner sofa in Echo Rose Quartz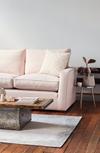 Caruso corner sofa in Echo Rose Quartz
Trends can come and go, but some are truly timeless. Here, we visit three in particular that we think will stand the test of time.
Over the last few years, we've seen colour schemes enter the interiors world that previously would have been dismissed. From contrasting jewel tones to softer shades paired with clashing prints or patterns, your home interior is very much a platform for expressing your personality, and not simply somewhere you live. Colour is, after all, a mood-booster, so why not embrace what you love and create something really special in the place you call home.
Every year brings with it a new set of trends – some are timeless and stick around, others get quickly moved along and replaced. Individual colours, however, can be used in so many ways and can look totally different depending on what you combine them with, so more often than not you can opt for the minimal amount for the maximum result. Let's look at three major colours that have popped up for this year and look to be here for the next few years: green, pink and yellow.
Green
Green has been and always will be a trusty colour. Boasting an extensive spectrum of colours, it can range from exuberant lime and moss to calmer sage and bold emerald. Green is known for its calming, stress-reducing qualities and can seamlessly bring a room together when its softer shades are incorporated. Our Walpole Sofa in Morton's Marble Charcoal – part of our collaboration with the V&A – is the ultimate example of how a contemporary yet retro style piece of furniture can be toned down with the use of a muted hue. The matching footstool in a vibrant yellow is an uplifting colour that brings this room to life.
Pink
Pink has and continues to divide the design world, however, according to renowned interior designer, Nicky Haslam, pink is the "most flattering colour to paint your walls." Pink has typically been associated with femininity, but over the years, it has slowly moved away from this connotation and has created a different name for itself. Just like green, it comes from a wide-ranging palette of bold and muted hues that each has its own character. Our Miss Behaving Chair in Moon Earth Candy is the perfect, elegant accompaniment to a scheme of soft, delicate colourways, exuding serenity and peacefulness. To brighten this up, the simple addition of a brightly patterned cushion completes this look tastefully yet beautifully.
Yellow
Yellow is another colour that radiates positivity and has the ability of quickly revitalising a scheme. From rich mustards to subtle pastel lemon shades, yellow is incredibly versatile. Commonly used as part of a colour-blocking trend that has increased ten-fold over the last few years, yellow is an easy option for those looking for that vibrant touch to finish off or act as a base for a look. Our Alba chair in a sumptuous velvet offers a 60s vibe and with its contrasting dark pine legs, it truly stands out. If you're looking to add a bright pop into a tired room or you're simply feeling a bit more daring, yellow should be your go-to.
shop all SOFAS