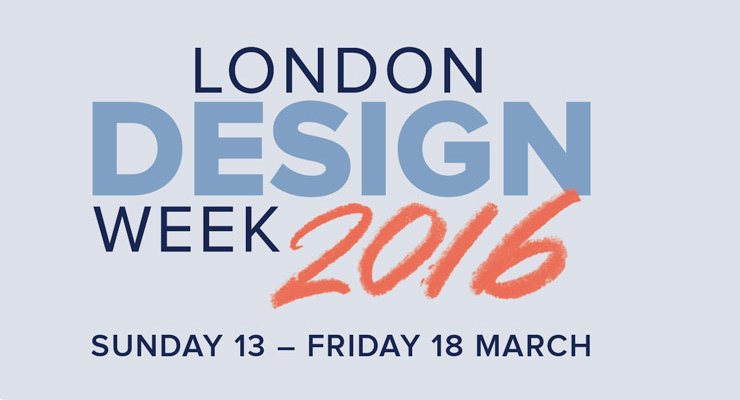 Being held at London's stunning Design Centre, Chelsea Harbour, London Design Week 2016 is a must-attend event for anyone with an interest in interior design. From Sunday 13th to Friday 18th March, Design Centre, Chelsea Harbour will be showcasing the latest in home design and decoration, featuring product launches, installations, workshops, talks from internationally renowned speakers, and more. Here's just a taste of what you can expect at this year's event.
Sunday 13th March
Head up to the second floor of the South Dome and check out the Textured Luxury exhibit, where Front Rugs will be showing off their new collections by award-winning designers Zoë Luyendijk, Jan Kath, and Michaela Schleypen. Enjoy a glass of prosecco as you preview the beautiful designs on display.
At Meet the Artist on the ground floor of the Centre & South Domes, Porta Romana will be putting on an informal presentation for anyone interested in finding out how they create their stunning products. A member of their workshop team will demonstrate the artisan techniques used on designs such as the 'Cocoon' pendant light.
Monday 14th March
Revealing the Craftmanship of Handmade Interiors – third floor Centre & South Domes – will see Fromental and Gainsborough Silks talk about the ways in which they use ancient techniques such as hand-painting, handembroidery, and weaving in the design and production of their products, and will include a demonstration of handpainting and foiling.
Stark Carpet will be celebrating the launch of their new coffee table book Decorating with Carpets: The Stark Tradition on the third floor of the South Dome with prosecco and canapés. This beautifully illustrated book looks at the use of carpets in interior design, and is the definitive carpet guide.
Tuesday 15th March
Visit the Tufenkian Artisan Carpets showroom on the third floor of the Centre Dome, where they'll be celebrating the launch of their Timeless carpet collection, which is hand-made in Nepal. Browse the collection and enjoy a Nepalese tea tasting and light snacks made with Armenian preserves.
Black & Key's MD, Karin Verzariu, will be giving a special talk on the first floor of Design Centre East to introduce the company's new finishes for 2016. Among the finishes being showcased is pinstripe (a high-gloss stripe applied to surfaces by spraying and hand-working), which can be seen on their new Portman desk and Apollo mirror.
Wednesday 16th March
If you're tight on space but moving or extending simply aren't options, then the design workshop Big Ideas For Small Spaces is for you. Tutor and interior designer Allyson Coates will be running the workshop on the ground floor of the Centre Dome, offering insights on how to make your small space work better for you.
Pop along to the floral workshop Hand-Ties With Philippa Craddock on the ground floor of the Centre Dome and learn how to make gorgeous hand-tied bouquets. Dubbed 'the queen of London florists' by Vogue, she'll teach you the secret to creating everything from small posies to larger designs.
Thursday 17th March
Taking place on the ground floor of the Centre Dome is the artisan workshop Fragrance at Home. Rachel Vosper, an internationally acclaimed chandler, will take participants through the history of candle making and explore the impact bespoke fragrances have on interiors and our environment.
Interior architect and designer Christopher Dezille, interior designer Jo Berryman, and luxury retail expert João Botelho will be discussing the connection between couture for the catwalk and the home in a special one-hour talk titled From Fashion To Interiors. Pop along to the third floor of the South Dome to hear what they have to say.
Friday 18th March
Not really a morning person? Then Morning Espresso, being held on the second floor of the North Dome, has the cure. Enjoy an informal Italian espresso breakfast while checking out Gallotti&Radice's furniture, lighting, and new accessories collection. Textiles and rugs from Italian brand GT Design will also be on display.
If it's your first time at Design Centre, Chelsea Harbour, then consider taking part in the Champagne Curated Tour. Home to 105 showrooms and over 600 of the world's most prestigious luxury brands, Design Centre, Chelsea Harbour can be difficult to get your head around, making the tour a great jumping off point.