With Valentine's Day almost upon us and romance in the air, we thought now would be the perfect time to show you the merits of romantic home decor. This interior design style mixes traditional and vintage pieces with rich, soft fabrics – such as satins and silks – and neutral colour palettes to create a charming space you'll absolutely fall in love with.
Neutral tones? Check. Sumptuous fabrics? Check. Vintage furniture finished off with an ornate chandelier? Check, check.
Is there any part of the home where the romantic interior design style works better than the bathroom? This rustic and romantic bathroom has seduction written all over it.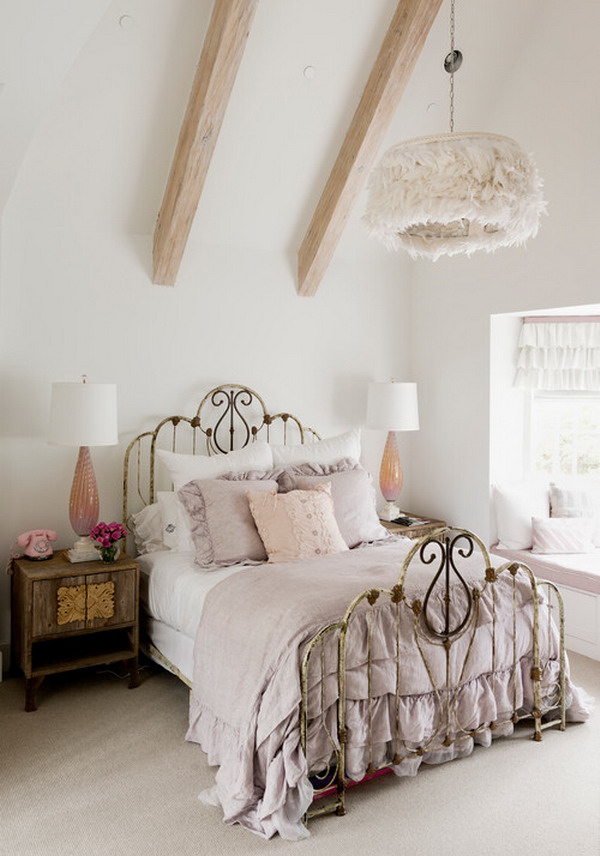 Well, apart from the bedroom of course. In this modest example, the soft pinks and purples, along with the old, rusting bedframe are enough to create a truly romantic space.
Filled with Victorian-style furniture and neutrally decorated, this room perfectly illustrates the romantic style of home decor.
This alluring interior simply oozes romance. It has everything you could possible want in a romantically designed space.
The soft styling and vintage furnishings often seen in shabby chic interiors lend themselves perfectly to the romantic look.
Add as much or as little of the romantic theme to your home as you like. Even in this Scandinavian-style home, those romantic details are there, albeit understated.
Nothing says romance quite like flowers, and floral bouquets added to a room will really complete that romantic feel.
A simple white space, effortlessly decked out with a few of those signature romantic touches.
This gorgeous apartment has also taken a low-key approach to the romantic interior design style.
The florals, the lush drapery, the vintage pieces – this isn't just romantic styling, this is romantic living.
Romantic interiors usually have neutral colour schemes, but done right, darker colours can be effective also.