The changing seasons offer the perfect opportunity to add some new flourishes to your home. Now that summer has well and truly passed, why not welcome in autumn with a few of these charming autumn decorations?
An autumnal bouquet, filled with the colours of the season – exactly what your living room needs at this time of year.
Floral arrangements are lovely, but autumn also provides plenty of alternatives if flowers aren't your thing.
Like these autumn leaves – a simple yet attractive arrangement that would require very little effort on your part.
Some beautifully sparkled-up autumn leaves – easily accomplished with a few pots of glitter.
Drape pine cones around items in your home – yes, autumn decorations really can be as simple as that.
Autumn wreaths are a lovely way to welcome people to your home. And this unusual one, made from an old rake head, will definitely get noticed.
As will this one – another attractive wreath that offers something a bit different to the ringed designs we see most commonly.
These acorn candle holders will add plenty of autumnal interest to a room, but if you can't find acorns, hazelnuts or small pine cones will do just as well.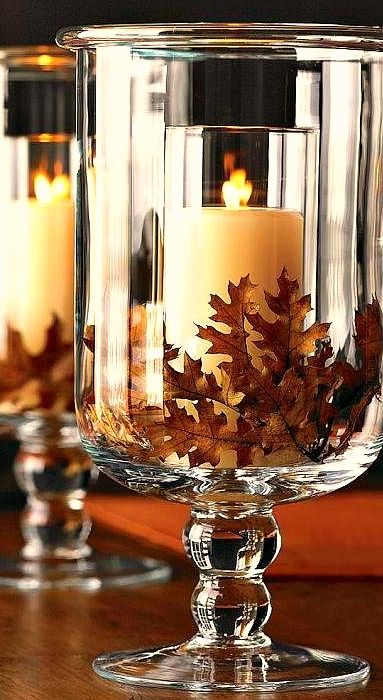 Or autumn leaves, as with these understated candle holders, which would make attractive table decorations.
Fallen branches can be used in a variety of ways in your autumn decorations, as this simple table centrepiece demonstrates.
Apples are a common autumn fruit, so put them front and centre in your home with these DIY apple candle holders.
Hang a cluster of autumn leaves from a window in your home – preferably one that gets plenty of light – and enjoy the colours in all their autumnal glory.