Today, March 3rd, is World Book Day, a day when bookworms everywhere get to celebrate their love of the written word. To mark the occasion, we're taking a look at some beautiful book storage ideas that are likely to have you buying more books, not less.
Small and awkwardly shaped attic spaces are perfect for creating your own little home library and reading nook.
This wall doubles as bookshelves – an ideal storage solution if space in your home is at a premium.
Whether shelves aren't an option or you want to try something a bit different, these wine crates are a quirky alternative to standard shelving.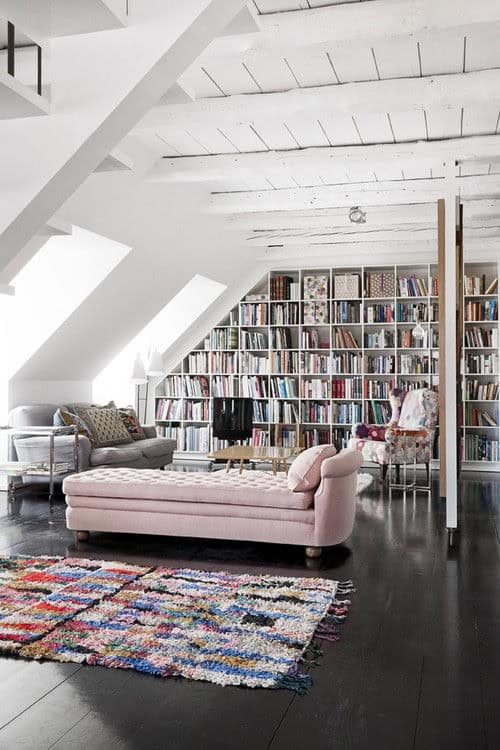 If you have the space, and the books, then consider creating an entire wall of shelves that can be filled with all your favourite works of literature.
Although a common sight in libraries, you'll rarely come across a circular bookshelf in a private home, which is why they make a compelling design choice.
How you organise your books can be just as interesting as how you store them. These books have been arranged according to colour, giving the room an artistic feel.
It's not difficult to find a home for your books. Even the simplest, most unrefined of shelves will do the job, and can still look gorgeous.
Let's be honest, this is less of a bedroom and more a library with a bed in it, which is no bad thing if you're a book lover!
And here's another home library, this time with a bath in it. Bathtime could well turn into an hours-long reading session.
Fit your book storage in anywhere you can. These built-in bookshelves running underneath a window are the perfect solution if you lack wall space in general.
No space below? Then look above. It's certainly a fresh take on the traditional bookshelf model.
More than simply somewhere to store your books, these bookshelves have also become a design feature.
The space at the foot of the bed often goes unused, so why not turn it over to the task of keeping at least some of your extensive collection of books?
It's different, but then if you're looking for an unexpected way to display your books, these shelves could be the way to go.
When there's no more room left in the rest of your home, consider making use of the hallway.
These bookshelves have actually been embedded into the walls. It's a clever design feature and space-saving approach.